With 2017, an exciting year comes to an end
In addition to our well-established community box, with Open Social we were able to successfully integrate a new community software into our offer.
We have developed a close cooperation and partnership with Open Social over the past few months, which we intend to further expand and strengthen in 2018.
With Open Social, the transition from the Drupal 7 to Drupal 8 development platform was completed.
Our first module "Automatic Alternative Text", based on Drupal 8, was made available to the Drupal community last month. The module uses artificial intelligence to describe the content of an image in a sentence. This sentence is used as an alternative text for the image. The alternative text is read aloud by screen readers and helps e.g. blind people better understand the content of a page.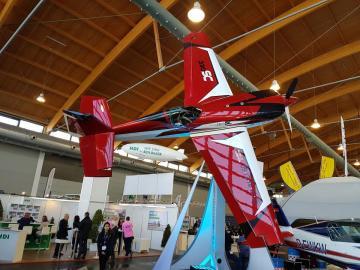 Example:
"A group of people standing around a plane" is the description the module provides with the help of artificial intelligence with only 44% certainty.
Even with a relatively low certainty of 44% that the delivered description matches the content of the image, we get a very good alternative text in this case.
From this perspective, it now becomes clear why alternative text is relevant to search engines.
Alternative text is not intended to perform search engine optimization (SEO), where we put keywords in the text under which the web page should later be found - whether or not the keywords have anything to do with the image - but only to convey the page's contents to people with disabilities.
What's ahead in 2018?
The exciting thing is, one cannot know ahead of time for certain which technology will suddenly experience such an upswing that one absolutely has to adopt it and have it on offer. Exciting times are ahead!
Granted, there are also developments that we are certain will be important in 2018.
Progressive Web Application
In our July blog post "Push Notifications for the Community" we described Progressive Web Applications (PWA) as a technology to send messages to mobile devices without having to install an app on the smartphone or tablet. Next year, this technology will also be added to Open Social and hopefully supported by all popular browsers.
Artificial intelligence
We have already created our first application with artificial intelligence with our module "Automatic Alternative Text". Moreover, the content of images and videos can be classified in order to block images/videos with violent, racist, or sexual content. An appropriate module can significantly simplify the work of a community manager if the manager is automatically informed of potentially "harmful" images by the system and only has to check these images instead of having to find them in every new post manually.
The most important providers of interfaces for the use of artificial intelligence are:
Google: Cloud Vision API
Microsoft: Cognitive Services
Amazon: Künstliche Intelligenz
Chatbots
Chatbots can also be managed using artificial intelligence, in the simplest case transforming a simple form into a communicative form. Thus, simple surveys or forms can be mapped for chatbots in order to increase the user's willingness to engage on the "personal" level between the bot and the user. Here is an example based on a short form with a fixed sequence: Chatbot.